Cool Links!
Click on the Title or Photo to access the website!

---
Klonoa Fan Club
A Fan Club Website!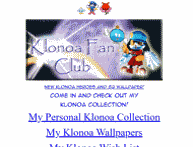 This was the inspiration that lead to create this website.
For a tribute for the Klonoa fans that came before me,
Here's an *almost* full archive of Klonoa Fan Club!
---
Advertising
GET FREE EXPOSURE NOW!
D0 YOU WANT FREE? EXPOSURE, WANT TO PROMOTE yOUR?
WEBSITE JUST
<br> GO HERE &and YOU CAN GET THE FREEE
EXPOSURE from this
FREE PROMOTION AND ADVERTISING METHOD!
THAT CAN EASILY BE DONE IN <br>
<strong>1 MINUTE!!!!11</strong>
---
Chanthy's Klonoa Shrine

Another early Klonoa fan website I found along side
Klonoa Fan Club. This website is big and full of links
so... be careful.

The rabbit hole is deep in this website and
you could be lost!
---
Kibynoa's Dreamy Forest

Added this website as I've been helping Kibynoa with the site setup.
I've also created the base page for her.
This wouldn't be the only help I'll give Kibynoa!
I'd recommend checking the dreamy forest first before the others!
---
Winamp
Other Links