---
Game Series
- Door to Phantomile
- Sekai ga Nozonda Wasuremono (aka Lunatea's Veil)
- Yumemiru Teikoku (Empire of Dream)
- Beach Volleyball
- Dream Champ Tournament
- Densetsu no (Legend of the) Star Medal
NOTE: Please assume anything in this section will contain some sort of spoiler about the game. Read at your own risk.
---
Music
- Song Download of the Week
- Special Download
- Previous Songs
- Track List
- My FTP
- FAQs
- "Sign of Hero" Arrangement Project
---
Downloads
- Wallpapers
- Winamp 2 Skins
- Multimedia (Sound, Video and MIDI)
---
Miscellaneous
- "You Know You Played TOO Much" List
- Old News Archive
- Off-Topic
- OekakiPoteto
- Links
---
AIM and E-mail
NOTE: If you are e-mailing me requesting for songs, PLEASE state which songs you want and provide me information on how you want me to send you the song. Remember, I WILL NOT send you song via e-mail. It doesn't work that way. Provide something else like transfer via AIM, FTP, a web site, etc.
Link to my Site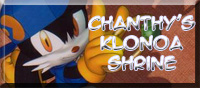 Use this button to link to my site. Please either use 'http://storm.prohosting.com/bigcn401' or 'http://klonoa.no-ip.com/' to link. Thank you.